Title: Wildflowers From Winter
Genre: Contemporary Romance
Pages: 320
Release Date: May 8, 2012
Publisher
:
Waterbrook Press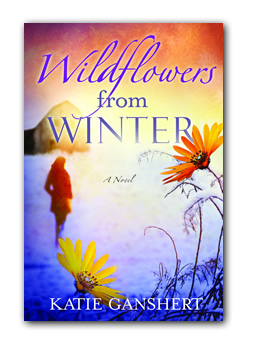 A young architect at a prestigious Chicago firm, Bethany Quinn has built a life far removed from her trailer park teen years. Until an interruption from her estranged mother reveals that tragedy has struck in her hometown and a reluctant Bethany is called back to rural Iowa. Determined to pay her respects while avoiding any emotional entanglements, she vows not to stay long. But the unexpected inheritance of farmland and a startling turn of events in Chicago forces Bethany to come up with a new plan.
Handsome farmhand Evan Price has taken care of the Quinn farm for years. So when Bethany is left the land, he must fight her decisions to realize his dreams. But even as he disagrees with Bethany's vision, Evan feels drawn to her and the pain she keeps so carefully locked away.
For Bethany, making peace with her past and the God of her childhood doesn't seem like the path to freedom. Is letting go the only way to new life, love and a peace she's not even sure exists?
Katie Ganshert was born and raised in the Midwest, where she writes stories about finding faith and falling in love. When she's not busy plotting her next novel, she enjoys watching movies with her husband, playing make-believe with her wild-child of a son, and chatting with her girlfriends over bagels. She and her husband are in the process of adopting from the Congo. You canfind her online at
her blog
and on
Facebook
.
Wildflowers from winter
is the first book in a series from new author Katie Ganshert.
The story centers around main character Bethany Quinn. Bethany grew up in Peaks, Iowa - first on her Grandpa Dan's farm with her parents and brother until the death of her father, then in a trailer park with her mother and brother.
She dreamed of becoming a big-time architect and being able to leave Peaks - and her past - behind her.
Now twenty-eight, she's living her dream, working for a prestigious firm in Chicago. One day, she gets a call from her estranged mother calling to tell her about a tragic situation that has happened to Micah (husband of Robin - her childhood best friend). Later that day, her mother calls again with news about health issues with her grandfather.
Feeling the need to visit both Robin and her grandfather, while avoiding any emotional entanglements, Bethany decides to go back to her home town - but only for a week. However, the unexpected inheritance of 500 acres of farmland and the sudden change of things back in Chicago force her to draw up a new plan.
The book starts off with a prologue about Bethany when she was twelve years old. The first sentence is rather gripping:
"The summer I turned twelve, I tried to kill myself"
. It was an unexpected start to the book and I was curious as to why the character tried to do that. The author doesn't let the reader know why though until much later in the book.
It was hard,
at first,
for me to get into the story after the prologue. I'm not sure why. It may be that it went from Bethany telling about the time she tried to kill herself to present day with her at work. I did get more into the story around the time she receives her inheritance (about 100 pages in).
The way the main characters each handled the difficult circumstances and
tragedies
that occurred seemed realistic. Robin definitely had the hardest time, but that's to be expected.
I thought the main characters - Bethany, Robin and Evan - were well developed with back-stories that seemed realistic.
I also liked how the author showed how someone can have a totally flawed image of who God really is and how that can affect them throughout their life.
Overall, I feel this was a great debut novel from Katie Ganshert. I thought it was an interesting, good read with well-developed characters and story line that
progressed at a good pace.
I'm looking forward to reading her next novel, Wishing on Willows,
due to release next year.
To check out b
onus features about this book, go

HERE
.
Please Rate My Review: